stainless steel electric commercial grinder meat mincer grinder price
Product Description
1.Meat grinder is to process all kinds of meats into different meat particles in order t0 be sufficiently mixed with other adjuvants.
2.Meat grinder for the series of products; work by rotating the cutting edge of the hole and the hole on the blade formed by cutting the role of cutting the raw meat, and the screw extrusion force.
3.According to materials and processing requirements of the different configuration of the corresponding tools and orifice, you can process the particles of different sizes to meet the next process requirements of the process.
4.Widely used in a variety of sausages, ham, luncheon meat, balls, salty flavor, pet food and other meat products and other industries.
5.All kinds of frozen meat, fresh meat, chicken skeleton, duck skeleton, pigskin, cowhide, chicken skin, fish, fruits, vegetables and so on.
6.Mian have A feeding mechanism, a cutting mechanism and a driving mechanism and other mechanisms.
7.Feeding mechanism, including Hopper, Auger and Pattern tube, its effect is to transport the material forward to the cutting mechanism, and at the front end of the material extrusion.
8.Cutting mechanism including Meat extrusion sample, Cutter and Cover screw, its effect is to squeeze into the template hole in the material to be cut.There are a variety of template hole specifications, according to different process requirements at any time to unscrew the cap to replace.
9.Driving mechanism including Motor, Pulley, Reducer and Machine`s frame and so on.

The description of metal meat mincer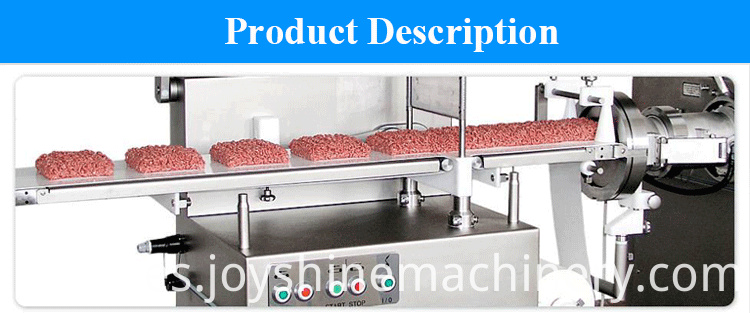 Product Features
The features of metal meat mincer
1.The use of high-quality (cast iron) or stainless steel, the processing of materials without pollution, in line with food hygiene standards.
2.Tool with a special heat treatment, superior wear resistance, long service life.
3.The machine is simple in operation, easy to dismantle and assemble, easy to clean and process a wide range of products, and can maintain its original various nutrients well after processing, and preservation effect is good.
4.Tool can be adjusted and replaced according to actual use requirements.
5.All kinds of frozen meat, fresh meat, chicken skeleton, duck skeleton, pigskin, cowhide, chicken skin, fish, fruits, vegetables and so on.
6.This machine has the advantages of energy-saving and durable, convenient and quick, with a compact structure, beautiful appearance, easy operation, high efficiency, low power consumption, easy cleaning and maintenance, safety and health advantages.
7.The use of fully enclosed gear drive, compact structure, smooth operation, reliable, and maintenance convenience.
8.Meat grinder head and contact with food parts are made of high-grade stainless steel, Safe and pollution - free;
9.Chassis lines smooth, no cracks can be hidden and no harm to the sharp edges of the operator, easy to clean.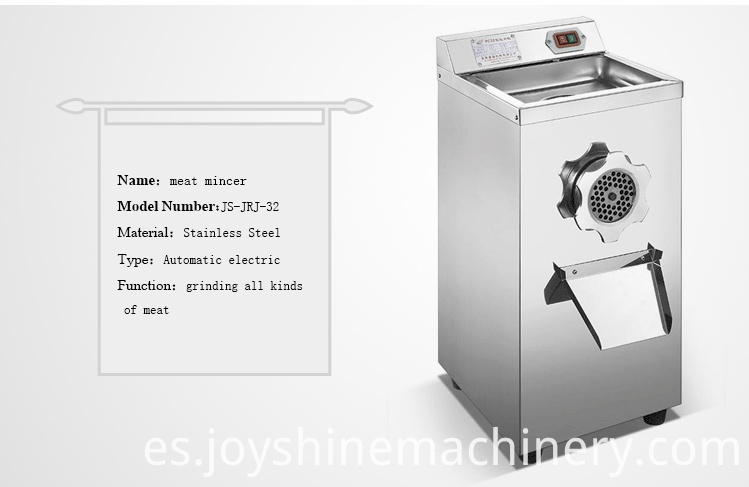 The parameter of metal meat mincer
Model

Power (kw)

Voltage (v)

Capacity (kg/h)

Inlet diameter (mm)

Discharge diameter (mm)

Meat hole board diameter (mm)

Hole board thickness (mm)

Meat hole diameter

(mm)

Weight (kg)

Size (mm)

JS-JRJ-32A

2.2

220/380

100

125

85

100

7

3/5,6/8.

customized

55

565*450*860

JS-JRJ-32B

2.2

220/380

100

125

85

100

7

3/5/12/15/22/29,

customized

55

845*680*895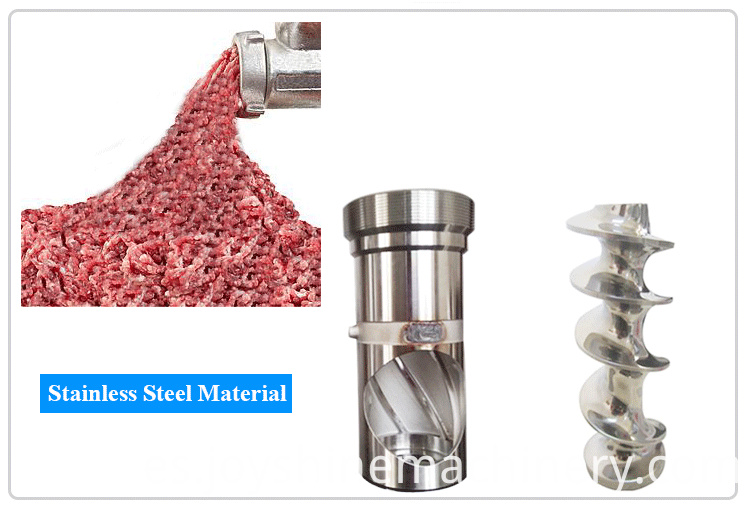 The use and maintenance of metal meat mincer
1.When it is working, the material continuously sent to the cutter mouth to be chopped.a certain pressing force is exerted on the material, which forces the chopped meat out of the hole .

2.For the production of canned luncheon meat, the need for coarse coarse fat and thin need to twist to replace the grid plate way to achieve the coarse twist and fine twist to be.

3.Cutter blade edge is transferred along the cutter installation. Cutting tools made of steel, sharp knife-edge requirements, the use of a period of time, the blade blunt, then replace the new blade or re-grinding.

4.Assembly or exchange reamer, be sure to fasten the nut tightened in order to ensure that the grid does not move.

5.Reamer must be closely attached with the grid plate, or will affect the cutting efficiency.

6.Spiral feeder in the machine wall rotation, to prevent the spiral surface and the machine wall collided.

7.Each time you use the meat grinder, simply rinse it. In general, the meat mincing machine in the last time after use are cleaned in time, before use, cleaning, mainly washed away the dust inside and outside the machine and so on.

8.Meat grinder chassis part of the normal circumstances do not need to do maintenance, mainly waterproof and protect the power cord, to avoid damage to the power cord and do a good job cleaning.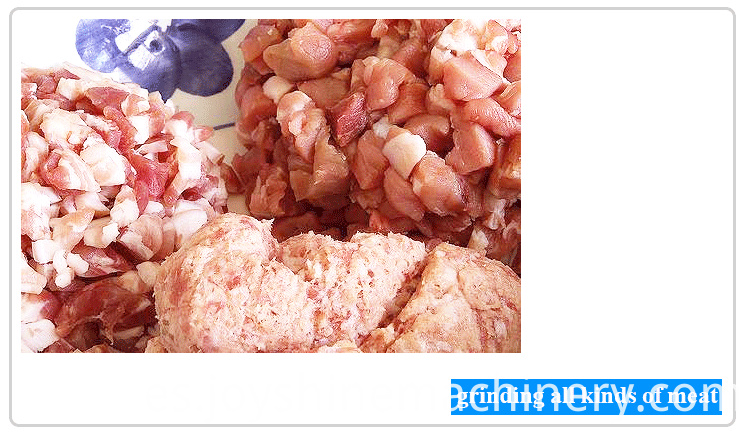 The main pictures of metal meat mincer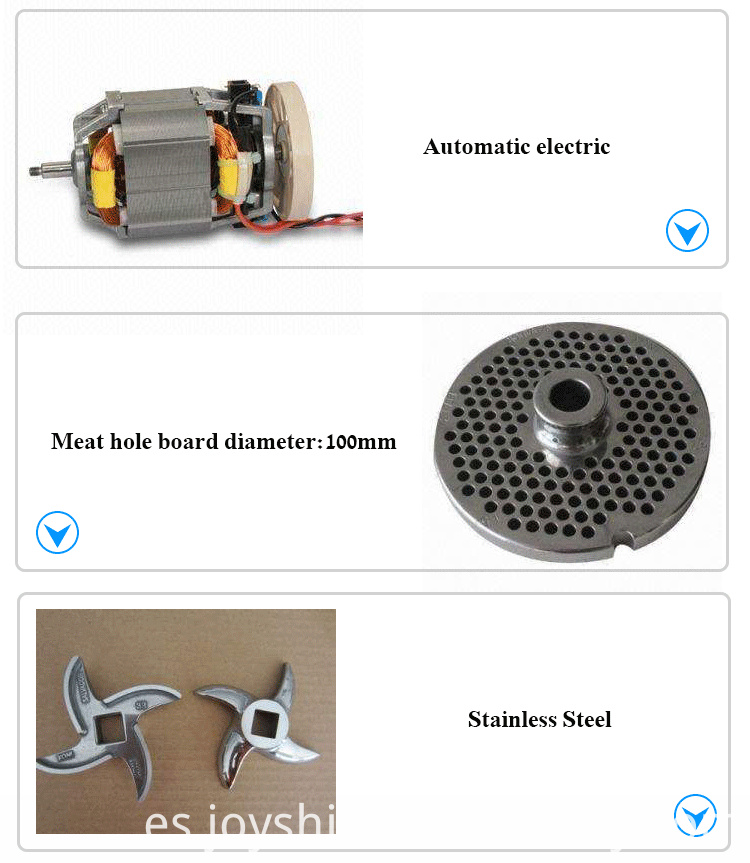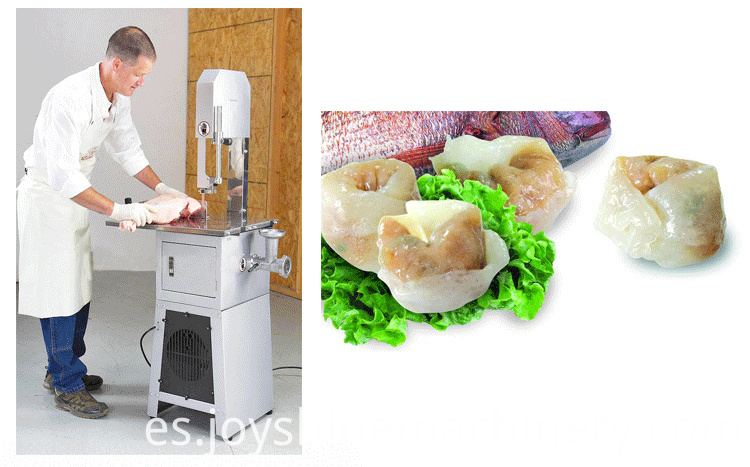 Packaging & Shipping
1.All the machines will be packed with standard export free-fumigation plywood.
2.You can choose delivery method by Sea, Air, DHL and etc. As per different situation.
Our packing and shipping of metal meat mincer
If you have any questions about our metal meat mincer, please contact Julk freely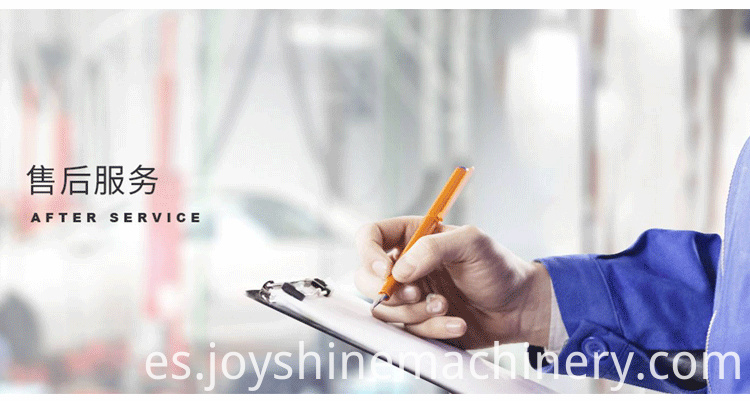 Our hot products
1.Animal Slaughering Equipment
2.Fruit Processing Equipment
3.Frying and Snack Equipment
4.Meatball Production Line
5.Meat processing Equipment
6.Food & Beverage Machinery
7.jacked kettle
8.Sausage Production Line
9.Vegetable Processing Equipme
PRODUCTOS POR GRUPO : Equipo de procesamiento de carne > Picador de carne